In times of crisis, staff will look to their leaders to guide the company to safety and a return to prosperity, but what are the common traits of businesses who are already well into recovery mode. Technology is a factor, but it is how your workforce use technology that actually creates the results, and it is here leaders can have a real influence.
Most small businesses are entering this changed world from a telephony-based communications structure with PBX functionality and mobile phones still the major investments. As a direct result of the absolute nature of the March 2020 lockdown, virtual meetings became the lifeboat for internal and external interactions and have now become a viable alternative to office meetings and travel, even when we begin to see restrictions relaxed.
The emerging early winners, however, are those businesses that have understood and engaged the third core element of Covid and post-Covid business communications tool kit – Team Collaboration. There are a number of players in this space including Slack and Google but leading the way are two power brands, MS Teams and Cisco Webex; but what is team collaboration and why is it important to staff, customers and employers?
Why collaboration spaces are important: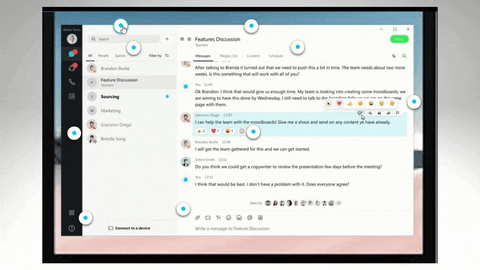 Within the collaboration spaces, a number of forms of communications combine to create momentum in projects, issue resolutions, training and development, idea development and team management.
Voice, video, chat, screen share and document/content share are staples. Adding human touches like emojis and gifs combined to create a continuous workspace to host group meetings with rolling contributions. As soon as you start to use these tools to enable your teams to work together, you will become an enthusiast and perhaps even an evangelist.
The biggest step is the first one.
If you, as a leader, perhaps with your closest management team, can commit to understand and explore the potential of either Teams or Webex you will be well placed to demystify these products and relate them to the activities your business technology needs to facilitate. Even though MS Teams is the leading player, as a telephony first business you might find it easier to introduce the Webex solution, building up from a softphone extension service, using it as a Zoom style meeting tool and then evolving the power of collaboration.
---
---
Return to blog